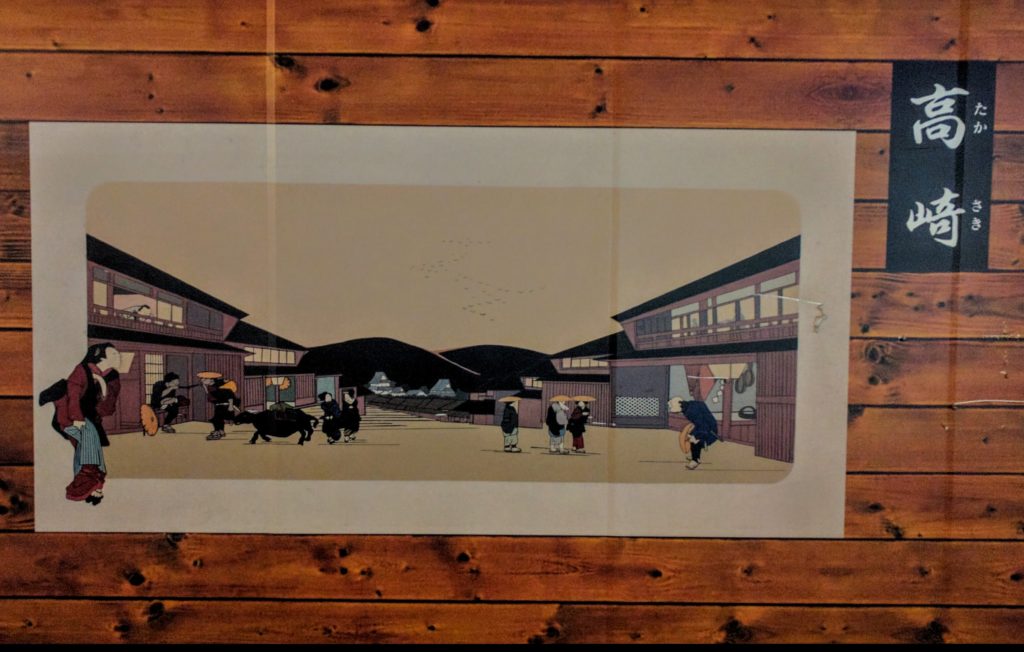 Takasaki is at the northwestern edge of the Kanto plain, where the Tokyo megalopolis turns into the mountains. I arrived by Shinkansen the evening before my walk would begin. It only takes an hour from Tokyo station, so I clearly could have gotten up early from Tokyo and arrived in Takasaki in time for a day of walking, but I decided to stay over because with jetlag it seemed like I might get more sleep this way. I checked into my hotel (the New Akagi business hotel; shabby and small room, which smelled like cigarette smoke — cheap but otherwise not recommended) and looked for a place for dinner. The place recommended on tabelog.com was closed that night, but I ended up finding a restaurant called IZANAI that served me an excellent dinner. (Not cheap and probably not easy for a non-Japanese speaker to order, but an excellent meal, pictured below.)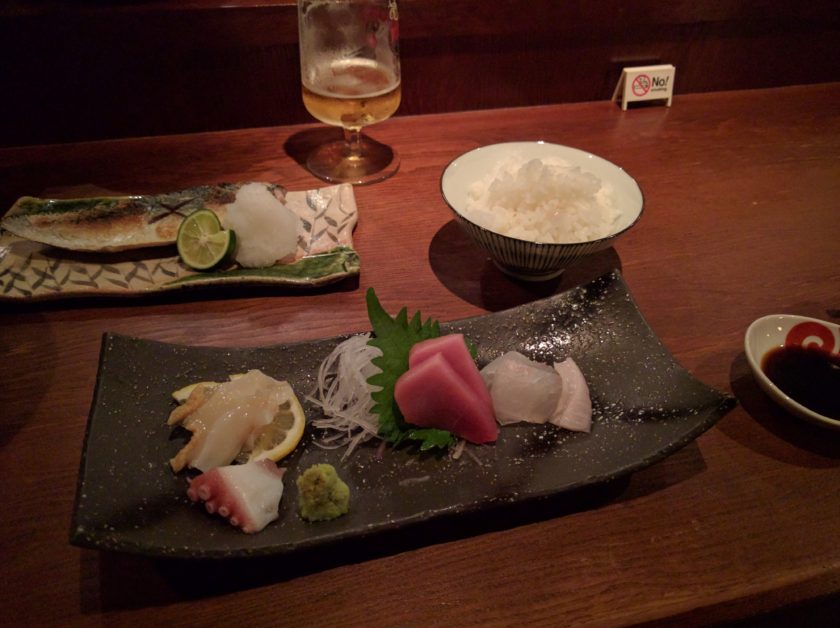 The next morning I set out early-ish along the route. My guide for the route, by the way, was this book that I bought from Amazon. There may be a KML or GPX file that one can download that captures the whole route, but I wasn't able to find it. (My Japanese Google skills may not have been sufficient.) I used the book to create a partial route on Google Maps on my laptop, which I then could view on my phone along the route. (I'll see about making that publicly available.) It would be challenging for someone who can't read Japanese to use the book alone, as none of the place names are written in Roman characters, but I suppose if you were in a place and could find the corresponding map, you could look back and forth between google maps and the book to locate the route. Obviously someone should just make the whole route available as a GPX file — wouldn't be that hard.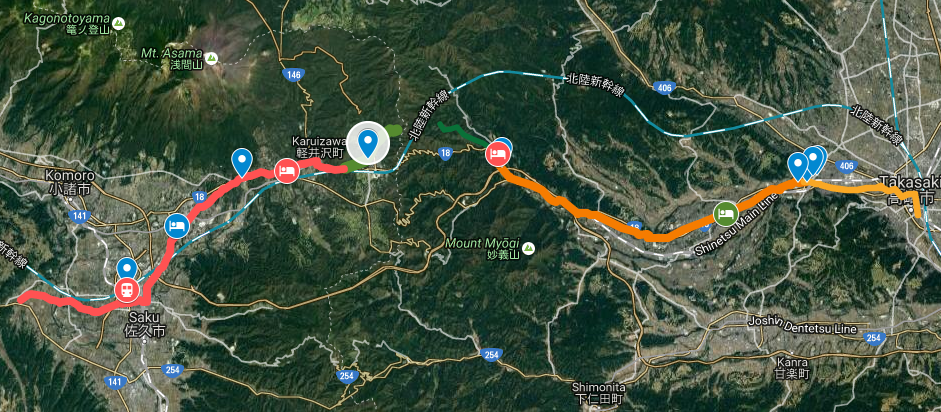 Anyway, my first day of walking was roughly 20 miles from Takasaki to Sakamoto, which is the last post-town before the path heads into the mountains and over the Usui Pass. This was actually more walking than I had planned; I think I had planned to take the Shin'etsu train from Takasaki to Annaka and walk from there, but I felt optimistic and wanted to walk right away. (And then of course how could I get on a train halfway!)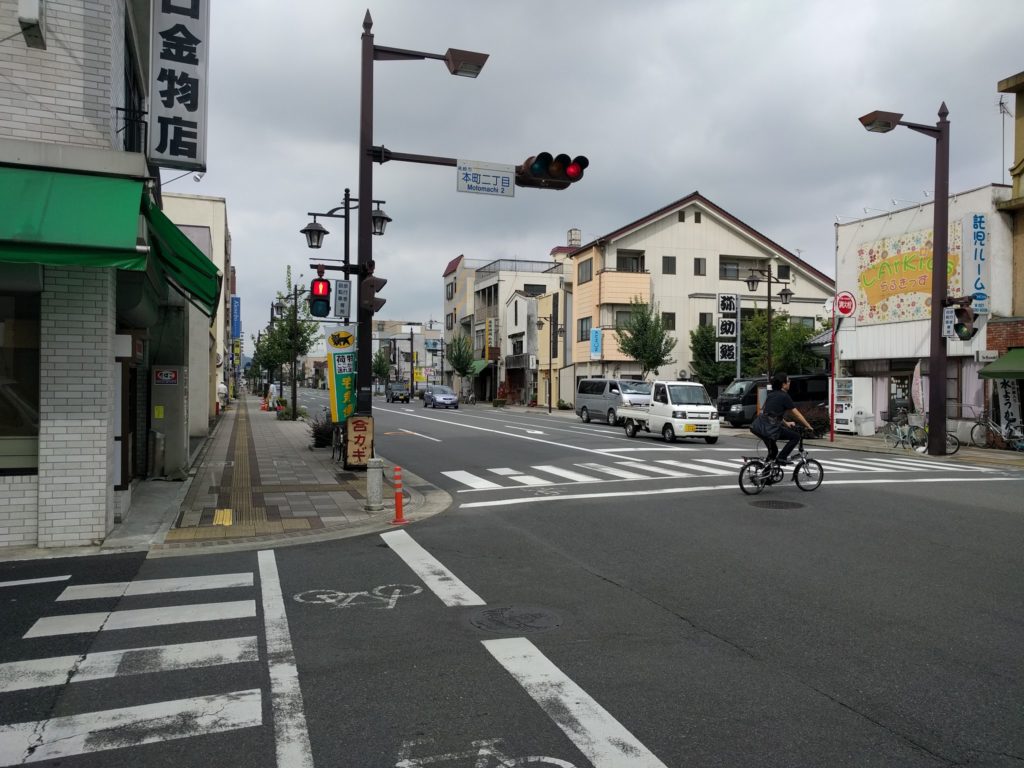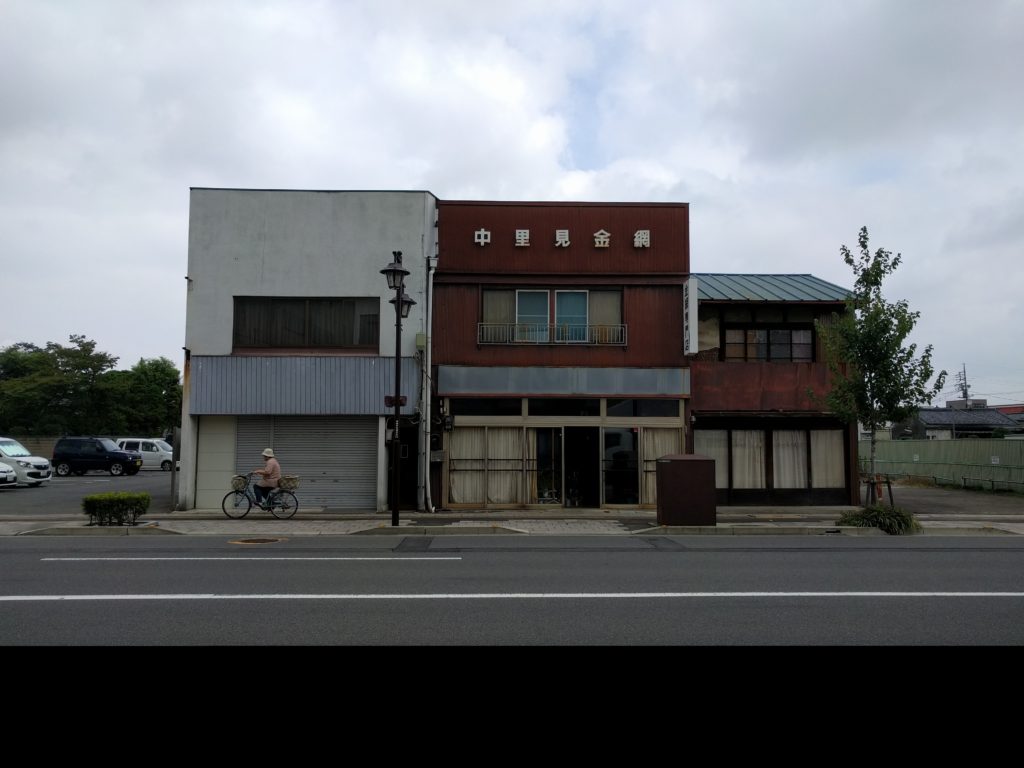 The walk out of Takasaki was basically pleasant: there is one stretch where the route takes you along Route 18 that looked kind of unappealing, so I walked on an asphalt path closer to the river (see photo below); I don't think I missed much.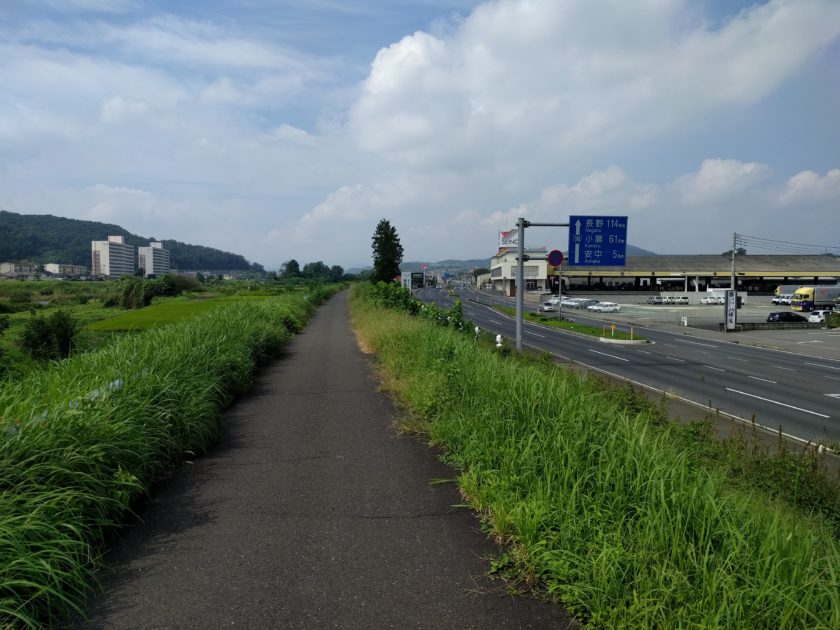 As I walked along the environment became more and more green and the mountains started looming larger; the setting becomes progressively less urban and more rural throughout the day. Also, as I got further from Takasaki the towns became quieter and more run down, but certainly not in an unpleasant way. I saw a lot of old people and a lot of shops that seemed unlikely to sell much; there were a lot of formerly grand-looking buildings that were deserted, decaying and falling apart. These towns are quite proud of their heritage as Nakasendo post towns; I frequently saw information billboards explaining the role of the post-town or describing events that happened nearby in connection to the road. This heritage seemed to be their strongest selling point to outsiders. There are also quite a few temples and shrines along the way, and I suppose that they catered in part to passing travelers.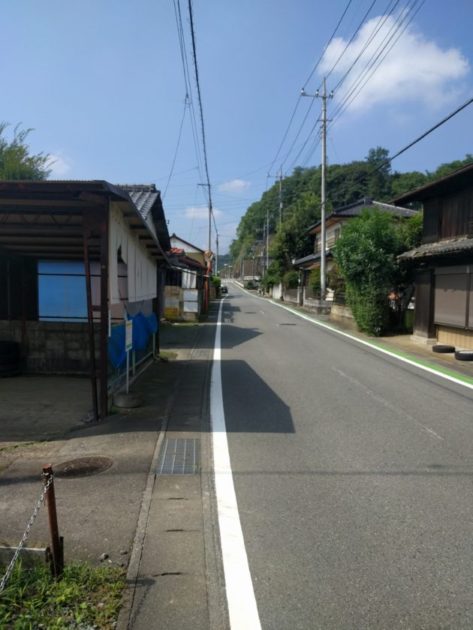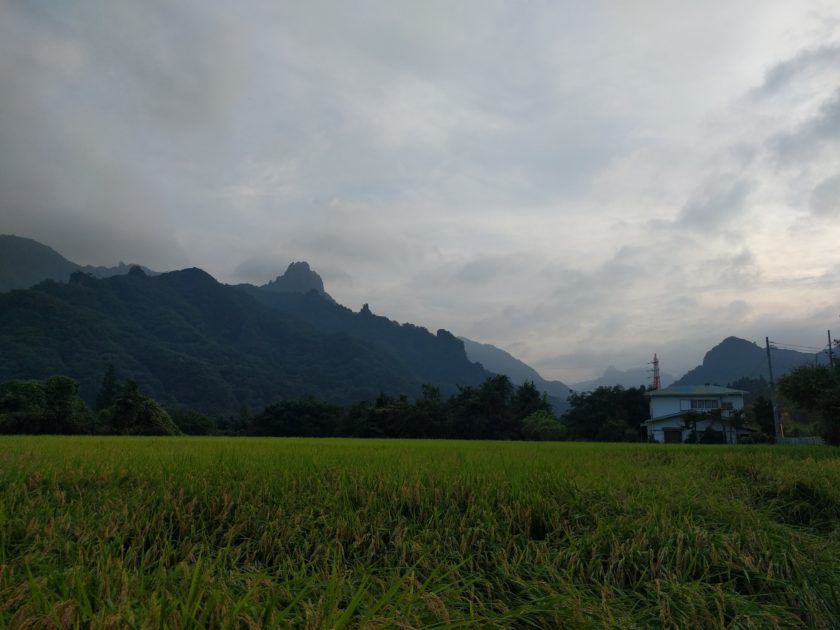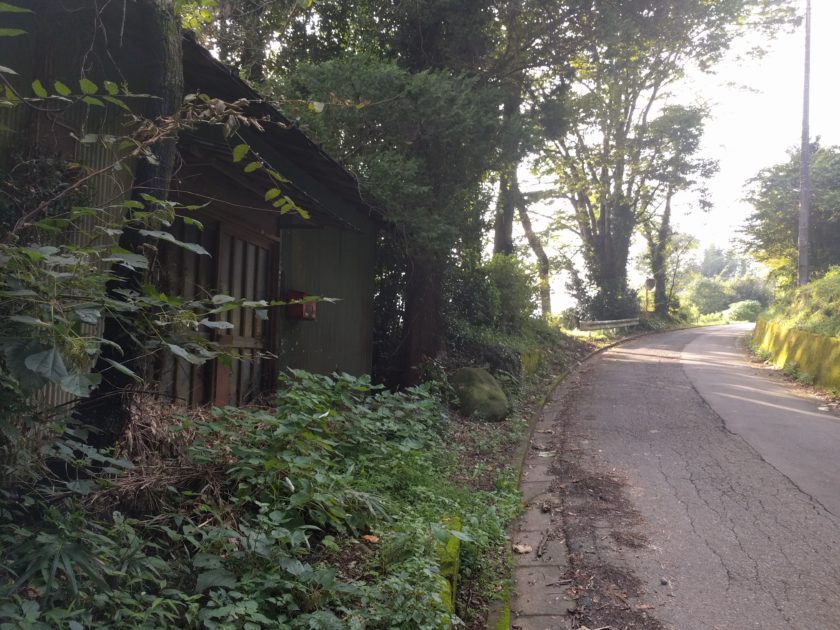 Around mid-morning I found myself walking behind a man roughly in his 60s who was clearly doing the same walk I was. I eventually caught up to him and struck up a conversation. We ended up having a nice time walking together. Fujii-san is a retired chemical engineer who lives in Chiba and is walking the Nakasendo in stages; this was a day walk for him, with about three hours of train on either side. (From this point onward he planned to do the walk in two- or three-day trips, with his wife alongside — the walk from Nihonbashi in Tokyo to the mountains did not interest her, for understandable reasons!) We talked about a range of things, but eventually got around to talking about American politics; as we were walking, Donald Trump and Hillary Clinton were concluding their first debate, and during our lunch break on the steps of a temple we checked on his tablet to see how it had gone. Later in the day Fujii-san started to tire out, and he sent me ahead so he could go a bit slower to his train. We took the selfie below (and I learned the Japanese word for it: jidori) just before parting.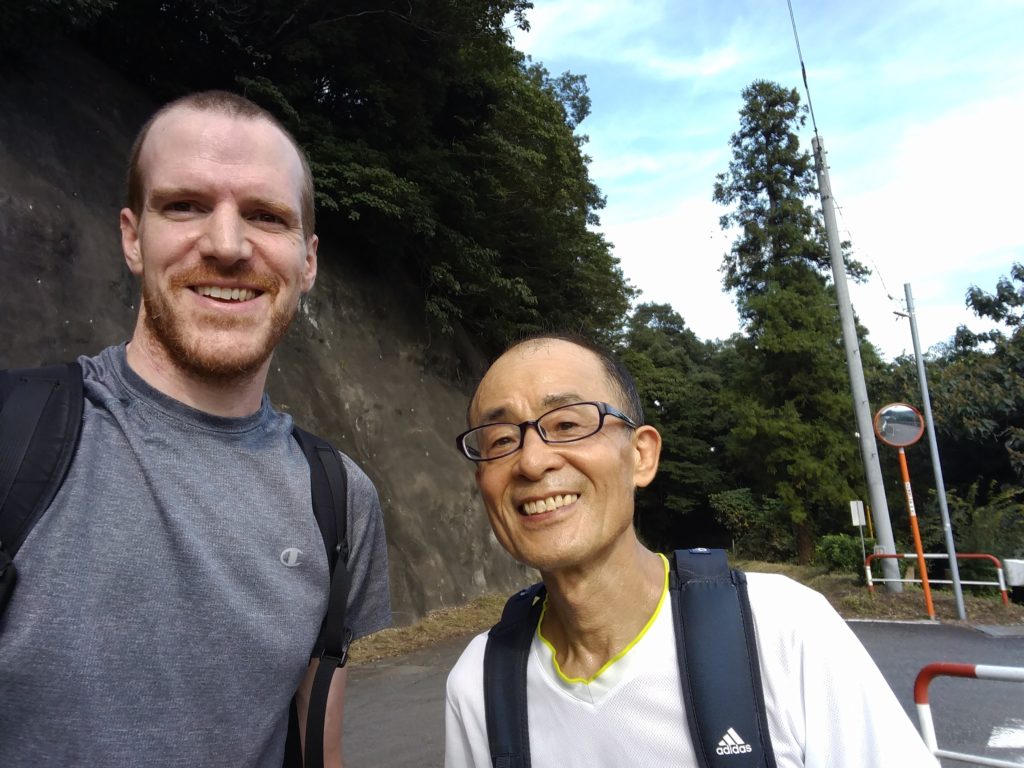 As I got further into the mountains and entered the post-town of Sakamoto I was surprised to see some monkeys in a garden. I leaned in to take the picture below (note monkey on the edge of the roof), after which the homeowner came out of her back door with some firecrackers to scare away the monkeys, who seemed to having a meal in her fruit trees.
In planning this trip I had some trouble figuring out where to stay at the end of the first day. I think there are some nice places in the mountains that are not near the route, and I thought about doing this and arranging a pickup in Sakamoto. There are a bunch of business hotels around Annaka, but that is not really far enough into the mountains to be interesting. (You could take the train back from Yokokawa to Annaka to stay overnight, but I don't like to backtrack and get into the hassle of a train.) I ended up staying in a "cottage" at an establishment called Kutsurogi no Sato. At the bottom left of the picture below you can see the reception building for this set of cottages; there are six or seven of them scattered around behind it. It didn't really make much sense to stay there by myself because the smallest cottage has four beds, and they are meant to be self-catering, but I was making arrangements kind of last-minute and I didn't want to deal with the hassle of arranging a pick-up. I think it would make a lot of sense for a group of people doing this walk as a weekend outing from Tokyo to stay at this place. You do need to bring your food (there does not seem to be a restaurant in walking distance); with advance notice they can provide the materials for a BBQ. I brought some ready-made stuff from 7-11, which was not gourmet or anything, but it got the job done. The best part is that it's close to the walk, next door to an onsen (though it was closed the day I stayed there), and has a beautiful view.