I recently spent 10 days in Japan, mostly to visit old friends in Tokyo and Kanazawa. (I also gave a talk at the University of Tokyo.) I took the opportunity to do some walking on the Nakasendo, which is one of the two roads established in the early 17th century to connect Tokyo (Edo) and Kyoto. I spent a lot of time before my trip trying to figure out how to fit this in, and I wanted to share some of my experiences here partly as an aid to anyone else who is thinking about doing a short trip on the Nakasendo. I was able to find some useful blogs describing journeys from Tokyo to Kyoto (or vice versa), such as this guy who did the whole thing in two weeks, this guy from New Zealand who did it over a more reasonable three weeks, and this guy who has great GPS data on the various stages. The insane do-it-in-two-weeks guy also has a short but useful post for people considering a shorter trip, basically saying that the Kiso Valley is the best part. In addition to telling my friends about my trip, I hope that these blog posts might help someone in the future to plan a short excursion to walk the Nakasendo around Karuizawa, which I think is another excellent trip for someone interested in walking and history who has a few days.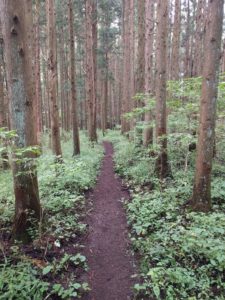 Initially I had thought about spending four days walking; I would arrive somewhere from Tokyo, walk for several days, and then continue on to Kanazawa. I developed a plan for going to the Kiso Valley, which everyone seems to agree is the most scenic part of the Nakasendo. (In fact, in some places I found the section involving Tsumago and Magome described as the Nakasendo, ignoring the rest of the route.) My plan roughly was to take a train to Kani one evening (via Nagoya), stay there overnight, walk to the Daikokuya Ryokan (described in the Walking Fool blog), then to Nakatsugawa, then to Minshuku Koiji in Okuwa (described favorably in the Walking Fool blog), and then maybe as far as Kiso-Fukushima before taking a train to Shiojiri and onward through Nagano to Kanazawa. As it turned out, I ended up with really only two and a half days for walking, so I started to explore an alternative approach that would require less transit time.
The plan I actually implemented was to take the train from Tokyo to Takasaki and walk from there to Sakudaira, stopping overnight in Sakamoto and west Karuizawa. This definitely minimized my transit hassle — basically it was shinkansen to Takasaki and shinkansen from Sakudaira to Kanazawa (with a change at Nagano). So it was perfect for my particular constraints. This also makes it a nice itinerary for an outing from Tokyo: you could walk from Annaka to Karuizawa in a very pleasant two days, with one overnight in Sakamoto, or add another overnight and train back from Sakudaira.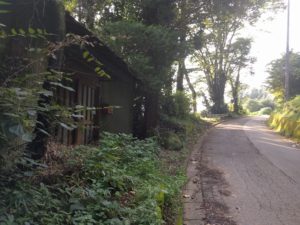 In the next posts I'll describe my walk in more detail, but let me just quickly say a bit more about what I think would be a good weekend outing from Tokyo: Leave Tokyo by train early on day 1 to arrive in Takasaki; from Tokyo Station it takes about an hour. If you are up for 20 miles of walking in a day, walk from there; for an easier day, transfer to the Shin-etsu line to Annaka and walk from there. Stay at Kutsurogi no Sato in Sakamoto if you have a group of 3 or 4 people; otherwise you might want to arrange a pickup near Yokokawa station or train back to Annaka to stay overnight there. On day 2, walk through the mountains over the Usui Pass, arriving at Karuizawa Shinkansen station early afternoon for a train back to Tokyo (with time to do touristy things in Karuizawa or climb up Hanareyama if you're up for it). Or, for a three day journey, continue on and stay somewhere between Naka-Karuizawa and Oiwake (I stayed at Yuusuge Onsen Ryokan but I wouldn't recommend it) and walk to Sakudaira Shinkansen station the next day, for a train back to Tokyo. This itinerary does involve some ordinary road-side walking; it is not unremittingly picturesque. And I also prioritized transit simplicity over other goals. But it also involves some lovely paths in the mountains, lots of historical interest, and plenty of places you won't see on the usual tourist itinerary.